The fabulous Andrea from Fox in Flats recently issued another Style Dare – wear flowers for the Fox in Flats Flower Dare every day for a week or be branded a chicken.  As a Fox in Flats Top 50 Style Blogger, I have standards to uphold and I wasn't going to let her call me chicken!  Bok, bok, bok …
Luckily. my wardrobe is stuffed full of floral delights, so it wasn't too difficult to fly the floral flag for the Fox in Flats Flower Dare.
On Father's Day, I wore a Mimco hat with a flower, and a Zara floral scarf, and some lovely Witchery beaded and fabric earrings.
On Day 2 of the Fox in Flats Flower Dare, I wore a Von Troska floral ruffled cropped jacket with Sportsgirl rust pants and a Ginger & Smart black cashmere top,  topped off with a Mimco terracotta headband.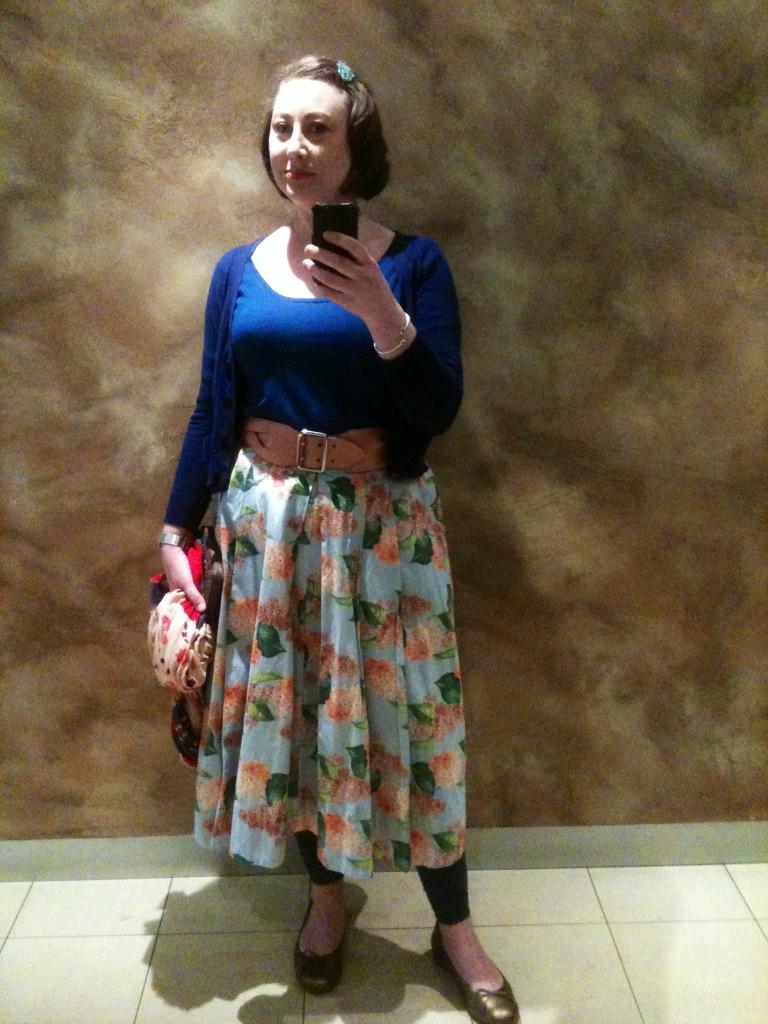 On Day 3, I teamed Ziera old gold ballet pumps with blue Leona Pins footless lace-edged tights, a Trelise Cooper printed skirt, Country Road tan leather belt, David Lawrence blue knit, Country Road blue cardigan and a Mimco aqua hairclip.  I can't tell you how much I love this skirt!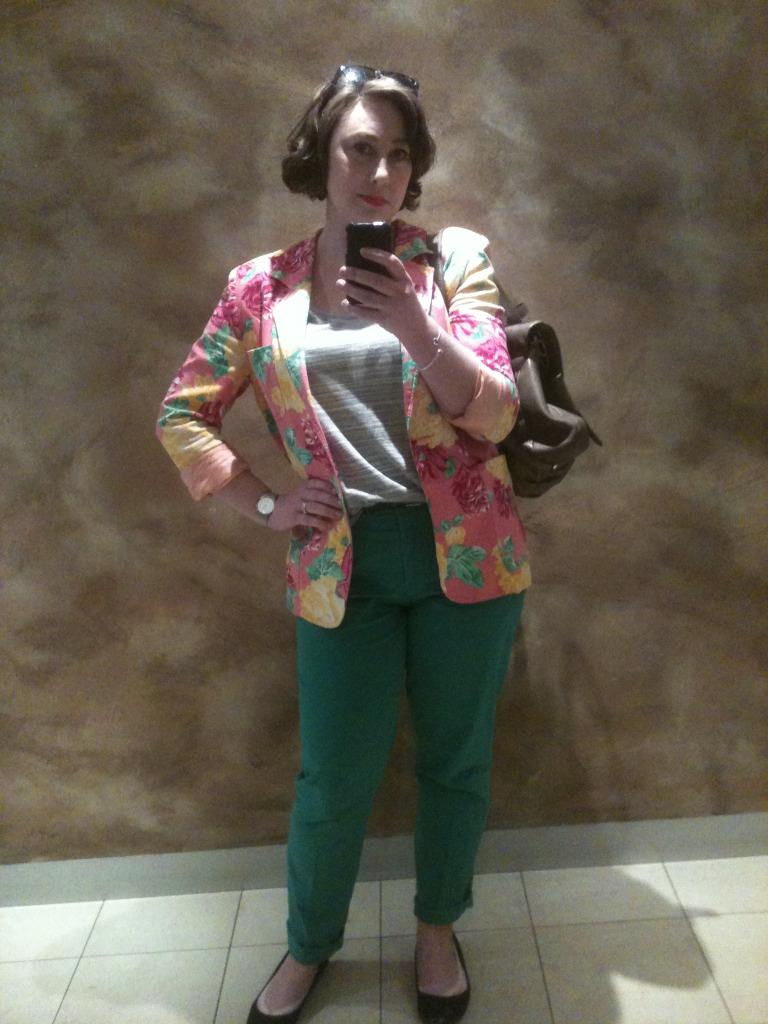 Today, I wore a vintage Nina Ricci blazer with Target green skinny chinos, Sussan grey tee and my beloved Marc by Marc Jacobs Classic Q backpack.  My shoes are Leona Edmiston black suede & patent studded ballet flats.
I bought the blazer from Rozelle Markets, and it has the loveliest back story.  The woman bought it on her first trip to Paris with her boyfriend in the 80s from the Nina Ricci boutique, and was delighted that it was going to someone who would treasure it.

I teamed a Liberty London floral shirt with a Johnston & Bell navy bubble skirt with a navy patent Marni belt.  I added a tan leather Seed hairbow to tie in with my Wittner patent lady heels, and nude fishnets.
On Friday, I whipped out my new favourite pants, these lovely floral skinnies from ASOS.  It was also Wear It Purple Day for raising awareness and support for GLBTIQ youth at risk of suicide, bullying and ignorance.
I teamed them with Florence & Fred glitter leather ballet flats and a Sussan cobalt hi lo tunic and a little bit of Colette boom pow with a fabulous statement necklace that cost less than a magazine. Bargain!
On my final day of the Fox in Flats Flower Dare, I kept it casual with G Star Raw boyfriend jeans, a Sussan navy striped tee and this fabulous resin, ribbon and fabric concoction that I bought in Accessorize Cheltenham.
I had the loveliest afternoon wandering the cobbled streets of Cheltenham all by myself, with birthday money to spend, in the midst of a family holiday in England.  I've never actually worn this piece before, so I have Fox in Flats to thank, because I genuinely adored wearing it all day.  It was just the right touch of girliness to offset the boyfriend jeans and slouchy tee.
That's my week of the Fox in Flats Flower Dare.  How did you get on?  I'd love to hear all about it!

Want more Kimba Likes?
Email me | Facebook | Twitter | Pinterest | Instagram |Polyvore | Google+ | Bloglovin' | Subscribe to daily posts| Subscribe to my newsletter |